Private Enterprise "КREDO" was founded in 1997. Originally the factory had a different name: "Vosutex2". But since 2001 the company has been called "Кredo".
The shoe factory "KREDO" produces shoes from the EVA polymer and from textile materials on the PVC sole, which is attached to the top of the footwear by direct casting. For the production of footwear, five large units are used, two of which are poured shoes from the material EVA. The other three are specializing in direct tall soles. The peculiarity of the casting method of fastening is that the process of fastening the bottom of the foot is combined with its formation. Such shoes do not have any mechanical mounting soles to the top of the shoes, be it nails or threads, nor chemical fasteners such as glue. The attachment of the soles occurs by penetration (adhesion) of PVC into the material of the upper and interstitial parts. Due to this, the area of ​​the connection of these parts increases ten times. Thus, the monolithic connection of the lower part of the footwear with the top turns out. The strength of the attachment of the sole by direct casting,
---
As a result of the company's activities in 2013, the factory received the National Certificate "Industry Leader 2014". The company ranked 1 in the ranking among the large and medium enterprises of the Khmelnytsky region of Ukraine according to the results of the ranking of the "National Business Rating" according to official statistics.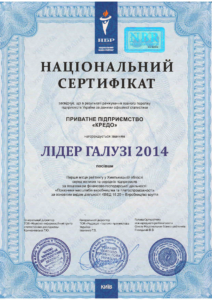 ---
According to the official rankings developed by the ICCA (Netherland) International Association of Congresses and Conferences, within the framework of the Independent National Business Prize, the Footwear Factory of Private Enterprise "Kredo" received the "Choice of Ukraine 2017" award and the head of the company was awarded with the Golden Hands certificate.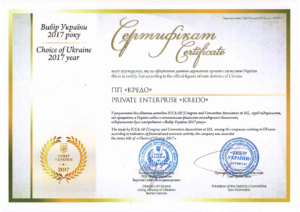 ---
The enterprise is constantly developing and actively participating in various exhibitions and shows. First of all, this is an exhibition in Ukraine LEATHER AND SHOES from 2015 to 2018, an exhibition of shoes in Poznan (Poland) Poznan Fashion Fair 2016.
---
As a contributor to the CUTIS Program for Export Support to Canada UCAN EXPORT, the company participated in the TORONTO Shoe Show in Canada in August 2018.